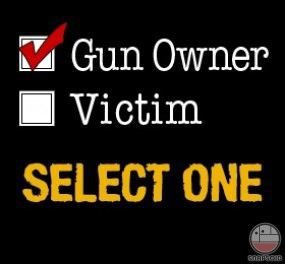 I know several people that think that gun ownership is not right for them. Do you know what I think about this? Fine. If you don't want to own a gun then that is your right, but you dang sure should not interfere with my right or anyone else's right to own firearms. That is how I feel about that. But what should you do if you are not sure about whether or not you should own a gun? I compiled a few questions in quiz format to contemplate if you find yourself unable to decide. After completing the quiz, total up your score based on your answers and compare the score to the key at the end.
1. Are there any threats to me, my family, or my property in the local area? (Yes – 2 Points, No – 0 Points)
2. Is there the potential for any threats to develop in my local area as a result of key events like natural or man made disasters? (Yes – 1 Point, No – 0 Points)
3. Do I feel that my life or the life of my loved ones is something that I should be able to defend if the need arises? (Yes – 1 Point, No – 0 Points)
4. Can I afford to be a victim, either physicially, emotionally, and/or financially? (Yes – 0 Points, No – 2 Points)
5. Are there any restrictions that might prevent gun ownership based on the type of property (apartment, condo, etc.) that I live in? (Yes – 1 Point, No – 0 Points)
6. Do I live in an area that limits the kind of firearm that I can own? (Yes – 1 Point, No – 0 Points)
7. If I choose not to have a gun is there another means of defense that will be even remotely as effective? (Yes – 0 Points, No – 2 Points)
8. Can I afford to obtain a gun, ammunition, cleaning kit, and the range time required to be proficient with my chosen gun? (Yes – 1 Point, No – 0 Points)
9. Am I trained or do I know where I can get trained in how to properly use a gun? (Yes – 1 Point, No – 0 Points)
0 – 5 Points = You did not answer the questions honestly. Go back and try again!
6 – 8 Points = You should give some serious thought to obtaining a firearm for defensive purposes as well as for securing your future and the ones that you care about.
9 or More Points = Without hesitation you should begin the steps to purchasing a firearm today.
Please comment so that the Gun Ownership Quiz can be improved for future use! Thank you.